#RockYourUgly is Going Viral
Waleed Shah is a photographer born and raised in the UAE. After graduating with a chemical engineering degree, he slowly discovered his love for photography, a passion that shortly transformed into full-time profession.
Over the past seven years, Shah has managed to work with the finest international brands in the market including, Audi, RedBull, Emirates, and Nestle – only to name a few. He maintains great pride in working with talented local artists as well as internationally recognized public figures passing through the UAE.
Shortly after connecting with Shah, we started exploring his most recent personal project, "Rock Your Ugly", uncovering real stories around people's body image insecurities. The project was inspired by his own discomfort gaining weight and getting a "Pablo Escobar belly", as we quote Shah's wife recalling.
Waleed Shah's Background
"I was a bodybuilder throughout my university years, but I hurt my back badly working out sometime in 2009, which then developed into a herniated disc. It's one of those things that kept hurting me no matter what I'd do. I was just always in pain working out.. Being that macho guy, physically. Working out gave me a feeling [a high] like nothing else. It was my thing. But after the injury, I let myself go bit by bit as I could not continue training without feeling pain," Shah tells us, as we start to grasp the extent of discomfort his "Pablo Escobar belly" really made him feel.
Insecurities around body image were definitely something he didn't struggle with alone.
In June of this year (2019), Waleed Shah brought the "Rock Your Body" project to life shortly after the loss of a best friend to cancer. "While I was in the Philippines working on a project called the Father's Day Project, I got a call that my best friend had passed away. We cancelled the project and flew to Toronto for the funeral. After returning to the UAE, my mental state was a mess. I needed to take some of my friends' advice and bury myself in work to occupy my mind. I took out my phone and picked this project randomly from a note I keep with all my ideas. I started calling some people up and pitching the idea then quickly realized that I wasn't alone dealing with some kind of pain."
The Healing Process
"Little did I know, uncovering the stories of those who agreed to participate in the project would be like group therapy. I would listen to someone else's pain and share mine," Shah explains on our Skype call.
The fascinating thing about the "Rock Your Ugly" project was that nearly everybody's insecurities were deeply stemmed from a mental health issue such as trauma, abuse, etc. "The body insecurity seemed to be just a surface layer to many deeper issues," he recounts.
Positive Body Image
While the #RockYourBody initiative explicitly shares the stories of many of our community's physical insecurities, Shah made it extremely clear to us on his disagreement with today's "positive body image' movement.
"What I really didn't want it to do is ride the whole body positivity wave… I wanted [Rock Your Ugly] to be about the way you really feel at the time about your body, being who you truly are at a specific point in time, regardless of people or even yourself accepting your body as it is or not," Waleed Shah explains to us.
"I think [the wave] it's very "in your face"… my message here is all about what you really feel about your body – do you feel you're accepting yourself, or do you need that nose job, that diet, that surgery..? I don't feel like there's a right or wrong."
Shah talks about Tac (pictured below) and how approaching him, he assumed that he wasn't comfortable with his body image.
Here's what he had to say about his image:
One major insight that stood out to me, personally, after diving into Shah's photography was how intricate the conversation around body image and insecurities ties around youth's mental health in the Middle East.
"Often times, we don't get hit by the realization that many people aren't always comfortable in the body that they're in," he quotes.
#RockYourUgly
During our conversation, Waleed mentions a beautiful girl named Saskia, and here's what he had to say about the German fashion blogger living in Dubai:
"To me and everyone else, she is stunning. As we spoke I found out she's researched every single type of surgery, which doctors, their schedules, the costs. Because of what happened in her past, she doesn't feel beautiful… so there isn't a right or wrong way dealing with body image insecurities… [plastic surgery or therapy] – it's all about what makes you feel more comfortable at the end of the day."
"I edit my nose in all of my images as I don't find it pretty at all." –@the_profashional
Here are a few more stories from the "#RockYourUgly" project: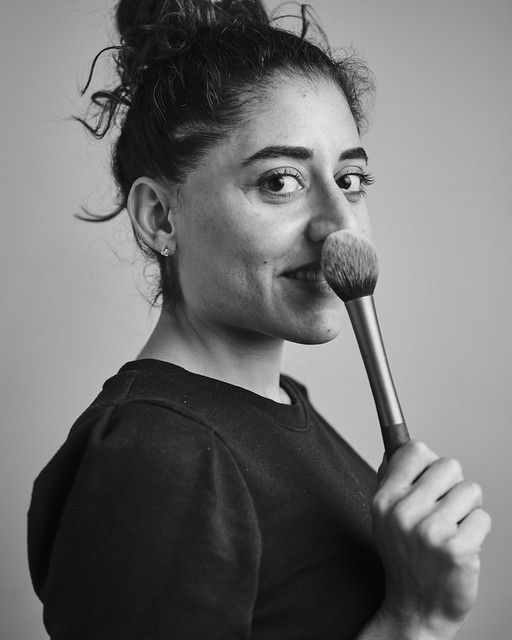 I grew up as an only child with my dad and we had the occasional GF and sister come through. Yeah. My mom and I were separated when I was about five and I didn't see her until I was 16. My dad was extremely strict. I was never allowed to do my eyebrows in school. All the girls got to do their hair and makeup and shave their arms and legs and go out. I was like the hairy, ugly, Harry Potter looking kid that everyone made fun of. None of the boys liked me. When I was in the 8th grade one boy said he liked me and made me believe him then later I found out that all my classmates were in on it and would make fun of me behind my back.
So I developed this complex in my head that I'm ugly for a very long time. They didn't know how abusive my household was or how my dad shaved off my eyebrow once because I tweezed them a little. Then when I grew older and I moved to St Mary's on my last few years, I turned into the bully and always tried to be the "popular kid"
"I've Learned How To Perfect The Art Of Throwing Up After Meals, I wear a size 1"
"I'm here to set an example for other plus size individuals"
"My face started to grow towards one side and my chin started to go off centre"
CLOSING REMARKS
As our conversation comes to an end, we agree on one mutual commonality – that the remedy to "fixing" body insecurities will always be different, depending on each individual.
Sometimes it's accepting it, sometimes it's talking to someone about it – or sometimes by merely "fixing" it.
While we acknowledge the big debate around the subject, the bottom line comes down to this: We all must feel comfortable in one way shape or form.
While our bodies may be our outer shell, the reality is that many do feel uncomfortable living in it.
Waleed's work shares a universal message around the intricacy of beauty and body image. No matter what body shape or size you are, you will always undeniably have a relationship with it and that will always be your intimate story.
That will always be what you ought to deeply cherish within – regardless of your identity.
—
We urge you to have a look at Waleed's work when you have a chance!
Feel free to reach him at [email protected] for bookings/inquiries.
---
Have something to say?
Join the conversation in our Facebook Group: "The Empower Community"
Feel free to also subscribe to our weekly newsletter to get the latest releases on all our articles & media. We include our celebrity guest's take on Mental Health and Wellbeing.